About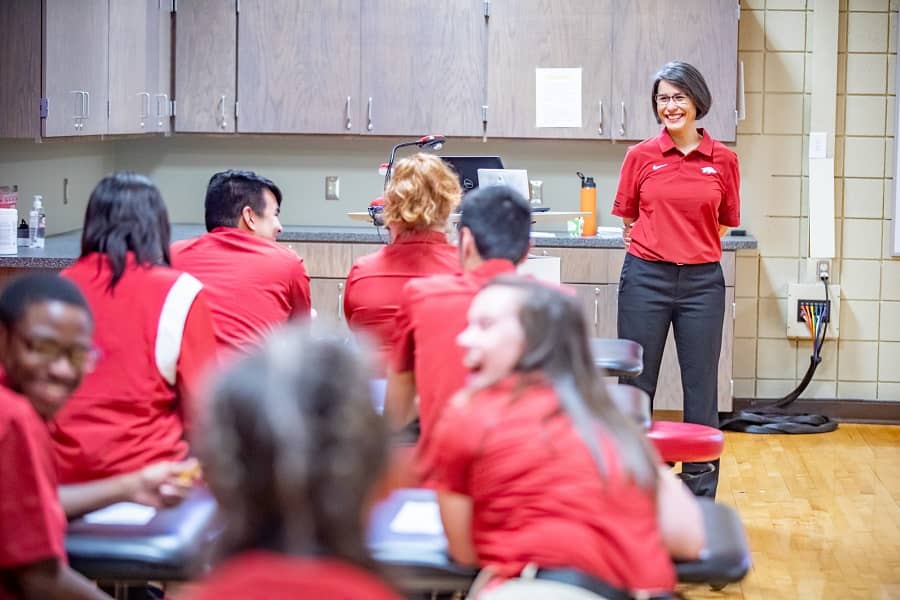 Luzita Vela, Ph.D., leads a class discussion.
The Department of Health, Human Performance and Recreation would like to welcome you to the Master of Athletic Training program. The department provides leadership in teaching, research and scholarship in the discipline of athletic training. A major commitment of the department is to discover, interpret, disseminate and apply discipline-specific knowledge to the university, state, national and international communities.
The MAT delivers coursework in injury prevention, musculoskeletal injury examination and diagnosis, pathophysiology and pharmacology, therapeutic modalities and interventions, management of emergent conditions, and health promotion. Clinical practice is provided through clinical education experiences in a variety of settings such as the University of Arkansas' NCAA Division I athletic training facilities, local high schools and area sports medicine clinics. Immersive experiences allow students to pursue an area of focus in settings across the U.S. Our faculty and preceptors provide a student-centered educational experience that allows students to grow as young professionals and healthcare practitioners.
Fayetteville, Arkansas, is the fourth best metro area to live in the United States in 2021-2022, according to U.S. News' annual 150 Best Places to Live. Northwest Arkansas is a resource-rich area of the country for quality learning in your chosen discipline as well as an opportunity to pursue your personal endeavors and hobbies. Washington County and the surrounding area is saturated with numerous professionals in medicine, corporate business, restaurants and family recreational opportunities. Fayetteville offers several public recreation facilities such as parks, lakes, fishing, hiking, camping areas and the Walton Arts Center, nestled in the Boston Mountains. In terms of private commerce, Fayetteville is within two hours of the entertainment mecca Branson, Missouri. Here people enjoy a variety of county music entertainers, camping, hiking and Silver Dollar City. Fayetteville is six hours drive northeast of Dallas, two hours east of Tulsa, four hours south of Kansas City and five hours southwest of St. Louis.
The U of A Graduate School provides a virtual tour for campus and regional opportunities.
If you have any further questions concerning the Master's in Athletic Training Program, contact Professor Luzita Vela, Ph.D. LAT, ATC, at UArkAT@uark.edu or 479-575-5203.
Sincerely,
Luzita Vela, Ph.D.
Teaching Associate Professor and Program Director
University of Arkansas