Program Goals and Outcomes
Program Goals and Outcomes
Vision
Mission Statement
It is the mission of the Graduate Athletic Training Program (GATP) at the University of Arkansas to produce competent evidence-based health care professionals who treat the physically active.
Program Goals
Goal 1: Maintain appropriate rates for passing the Board of Certification for Athletic Trainers (BOC) examination, student retention, graduation, and employment.
Goal 2: The GATP will promote a sense of service to the profession and community at large.
Goal 3: The GATP will foster clinical decision-making and critical thinking among students.
Goal 4: The GATP will promote scholarly work and scientific inquiry among students.
Goal 5: The GATP will provide high quality instruction to students.
Accreditation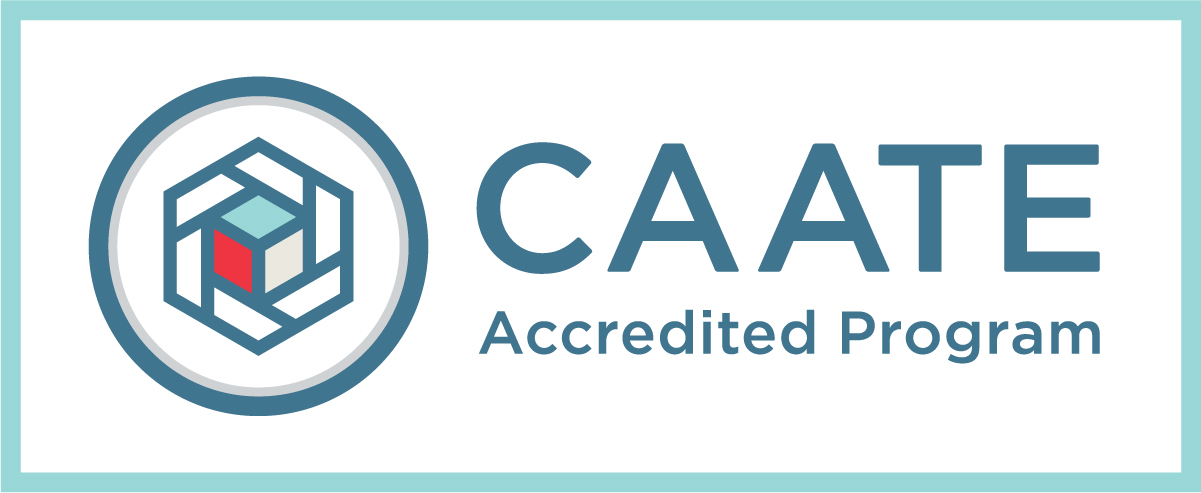 The University of Arkansas Master of Athletic Training Program has been continuously accredited since 2005 by the Commission on Accreditation of Athletic Training Education and has excellent student outcomes.
Student BOC Pass Rate

| | | | | | | | | | |
| --- | --- | --- | --- | --- | --- | --- | --- | --- | --- |
| | 2013-14 | 2014-15 | 2015-16 | 2016-17 | 2017-18 | 2018-19 | 2019-20 | 2020-21 | 3-yr aggregrate |
| Number of students graduating from program | 12 | 17 | 14 | 15 | 21 | 18 | 20 | 18 | 56 |
| Number of students graduating from program who took examination | 12 | 17 | 14 | 15 | 21 | 17 | 20 | 18 | 55 |
| Number of students who passed the examination on the first attempt | 12 | 17 | 14 | 14 | 20 | 15 | 20 | 18 | 53 |
| Percentage of students who passed the examination on the first attempt | 100 | 100 | 100 | 93 | 95 | 88 | 100 | 100 | 96 |
| Number of students who passed the examination regardless of the number of attempts | 12 | 17 | 14 | 15 | 20 | 16 | 20 | 18 | 54 |
| Percentage of students who passed the examination regardless of the number of attempts | 100 | 100 | 100 | 100 | 95 | 94 | 100 | 100 | 98 |
Student Graduation Rate

| | | | | | | | | | |
| --- | --- | --- | --- | --- | --- | --- | --- | --- | --- |
| | 2013-14 | 2014-15 | 2015-16 | 2016-17 | 2017-18 | 2018-19 | 2019-20 | 2020-21 | 3-yr aggregate |
| Number of students graduation from program | 12 | 17 | 14 | 15 | 21 | 18 | 20 | 18 | 56 |
| Student Graduation Rate (%) | 100 | 100 | 100 | 100 | 100 | 95 | 100 | 100 | 98 |
Graduate Employment/Placement Rate

| | | | | | | | | | |
| --- | --- | --- | --- | --- | --- | --- | --- | --- | --- |
| | 2013-14 | 2014-15 | 2015-16 | 2016-17 | 2017-18 | 2018-19 | 2019-20 | 2020-21 | 3-yr aggregate |
| Number of Students Employed as AT | 11 | 16 | 14 | 15 | 19 | 16 | 18 | 16 | 50 |
| Student Employment/Placement Rate as AT (%) | 92 | 94 | 100 | 100 | 90 | 89 | 90 | 89 | 89 |
| Number of students employed as other | 0 | 1 | 0 | 0 | 0 | 2 | 0 | 0 | 2 |
| Student Employment/Placement rate as other (%) | 0 | 6 | 0 | 0 | 0 | 11 | 0 | 0 | 4 |
| Number of students not employed | 1 | 0 | 0 | 0 | 0 | 0 | 1 | 0 | 1 |
| Student Not Employed Rate (%) | 8 | 0 | 0 | 0 | 0 | 0 | 5 | 0 | 2 |
Program Retention Rate

| | | | | |
| --- | --- | --- | --- | --- |
| | 2018-19 | 2019-20 | 2020-21 | 3-yr aggregate |
| Number of students beginning M.A.T. program | 20 | 18 | 19 | 57 |
| Number of students returning for year 2 of M.A.T. program | 20 | 18 | 19 | 57 |
| M.A.T. program retention rate (%) | 100 | 100 | 100 | 100 |